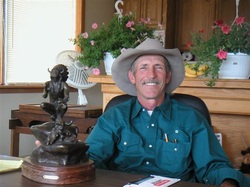 The works of
Lee Lester, Colorado Master Artist
, are found throughout North America, Europe, South Africa, and the Orient. Lester's oils, pastels, watercolors, pewter, and bronze pieces form the basis of many collections around the world.
Lee Lester grew up roaming the pristine prairies of Southeastern Colorado where the abundant wildlife, the silence, and the vast vistas provided him the opportunity and time to carefully observe the fauna and flora that became the finely executed subjects of his future oils, watercolors, and bronzes.
He was born with a passion for accurate and vivid portrayal of the animals he loves. Lee began his artistic career sketching the wildlife around him when he was a young fellow on the Colorado prairie. Later the Rocky Mountain School of Art in Denver helped polish and develop his natural artistic skills.
Over decades Lee studied many classical and modern artists, drawing something from each, but he attributes his main inspiration to Carl Rungius, one of America's finest wildlife artists. Lester feels that he owes much of his sense of composition to the legendary Rungius.
Lee's artistic studies were enhanced in the fires and forges of his own Oklahoma foundry. Surrounded by white-hot heat and flying embers, midst fire and flame, Lester mastered the melding of waxen sculpture and molten metal that must combine in an almost mystical way to tear art from the very heart of fire in the lost wax method.
His eye for anatomy, proportion, movement, detail, and precision of habitat give a special power, an almost incandescent light, to each of his pieces. When you look, for example, at his Medicine Man praying over the skulls of buffalo, you can see and feel the connection to the Indian tradition and the ghostly herds of disappearing buffalo. The wings of bird in flight seem to cast a breeze over your face and you can virtually feel the water spray from leaping fish.
His ability to capture the reality, the essence, of the moment are absolutely unexcelled and, whether on canvas, paper, or bronze, each captured subject breathes the life of a perfectly true moment in time.
Lee's ability to instill reality, whether in impressionistic, stylized, or realistic pieces, serves to magnify the truth of the subject in such a way that the trees in his paintings march quietly, steadily, and eternally over the horizon; or the worn leather gear of his cowboys seem imbued with the living sweat, hard riding, and abundant humor of their era.
Almost four decades of hard work, limitless exposure in hundreds of exhibitions and one-man shows across the nation, along with ten thousand starry nights on the rivers, in the forests, and on the plains of the American continent, in the mountains of Canada, and on the expansive veldts of Africa have resulted in a variety of awards, print recognition, and a well earned reputation as Colorado's Master Artist.
Media
Lee Lester is equally at home with a sketch pad or a bronze furnace, but his preferred media are oils, pastels, watercolor, bronze, and pewter. From time to time, Lee also works in leather, braided hair, and, occasionally, natural fabrics such as hemp.
Awards and Commissions
Recognition of his artistic achievement is never far away from Lee Lester but, as he notes, he is usually too busy planning an expedition to guide hunters or fisherman around the Rockies or up in Canada, or perhaps even Africa, to pay much attention to awards. After all, there is a lot of wildlife to see, fish to catch, and hunting to do… and then it all has to be painted or sculpted.
Lee has a stack of newspaper clippings higher than his boot tops with articles showing him at various dedications, unveilings, and historic venues. One such article shows Lee unveiling a bronze of a cowboy that was dedicated to the settlers of the Oklahoma Panhandle.
Lester was selected as
Master of the Western Bronze of the Year in 2001 at a Taos, New Mexico event
sponsored by HMS/Fields Galleries.
Lester has accepted
a wide variety of commissions such as a huge mural for Jack Chrysler of the Chrysler Corporation.
The Chrysler commission, shown below was twenty feet tall, fifteen feet wide and required a month to execute. It can be seen on the main thoroughfare in Norwood, Colorado.
Lee Lester Commissions
Frazier Land Development Corporation, Private Collection

Game Trails, by Bruce Bradley (a prominent writer for Outdoor Life), chosen to illustrate the book.

Gene Cernon, Astronaut, Private Collection

Gun Smoke and Dusty Trails Bronze Public Commission for the Artists Studio, Guymon, Oklahoma

National Teachers Insurance, Private Collection

Wild Wings – Public Collection

Wizard of Oz Historical Society, Selected Artist for a heroic size Dorothy, Liberal, Kansas
Exhibitions
Best of the West, Scottsdale, Arizona
Colorado Gun Collectors Association
Cowboy Christmas, Las Vegas, Nevada
Elk Foundation
Foundation for North American Wild Sheep
Game Coin
Main Street Gallery – One Man Show, Carbondale, Colorado
Mule Deer Foundation, Reno Nevada
National Cutting Horse Futurity, Fort Worth, Texas
No Man's Land Museum, One Man Show, Goodwill, Oklahoma
Rocky Mountain Elk Foundation, Reno, Nevada
Safari Club International, Las Vegas, Nevada
Southeast Wildlife Exposition, Charleston, South Carolina
Background
Born Sylvester Lee Lester III, in Flagler, Colorado, Lee attended the Rocky Mountain School of Art in Denver, Colorado in the early seventies, designed, owned, and operated his own foundry from 1976 to 1985. Lee owned a variety of galleries and, for a time, instructed students in pastel and watercolor. He roams the world as a professional guide and expedition commander as a way of being in communion with wildlife around the world and, as he says, "… as a way of not getting too stale behind the easel."
Additional Links / Sources:
http://gigshowcase.com/EndUserFiles/29241.pdf
http://www.hmscrown.com/fine_art/Lester/
http://www.facebook.com/lee.lester.965
Contact Information:
Lee Lester Studios
15201 County Road 306
Buena Vista, Colorado 81211
719-395-3279
LeeLesterStudios@yahoo.com
---